Summer Registration Guidelines
Summer Registration Guidelines
Summer Term enrollment processes differ from the regular academic year in several important ways. The biggest difference is summer term is comprised of many sessions—shorter time periods within the term with various start and end dates.  These sessions govern enrollment and billing deadlines.  Session titles are listed on each class in the CAESAR class search. A session chart is also available.
See the example below to find your session in CAESAR and review the session chart to find the start and end dates.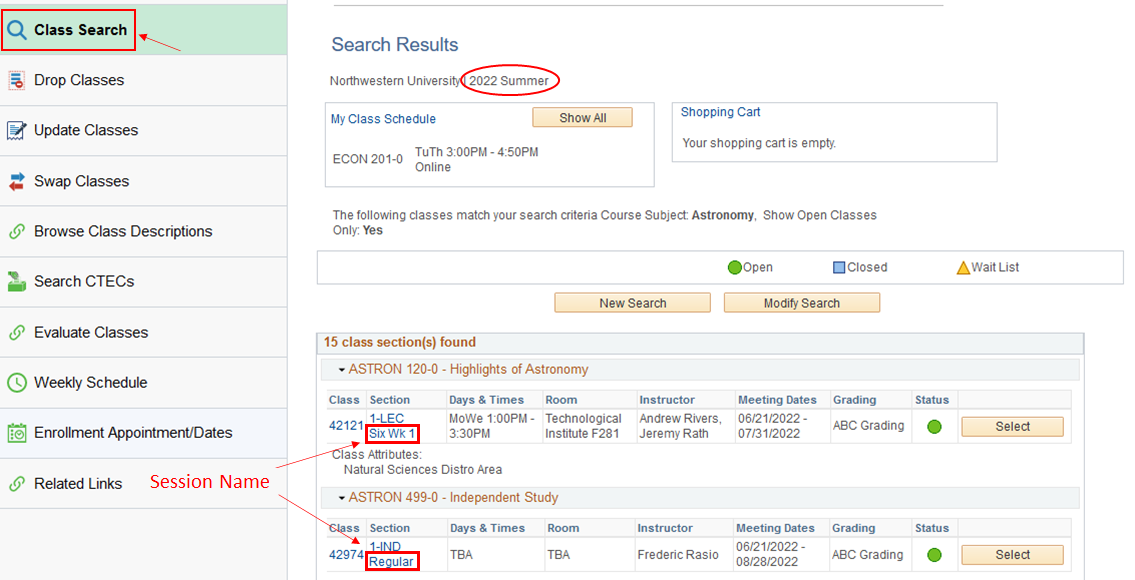 Important Note: Please make sure to consult Student Finance prior to making any enrollment changes—including adding a class. You will need the session start and end dates of the class you're considering. 
SPS and Visiting Students have different registration guidelines.
Guidelines for Adding a Class
You may add classes via CAESAR self-service up through June 26, 2023. Please Note: Any enrollments on your record in a session that has already begun will result in a tuition charge.
Unlike the regular academic year, classes can be added after the 5th day of the quarter so long as their session has not begun yet. This cannot be accomplished via self-service in CAESAR. Adds after the first five days of summer quarter must be done via the Office of the Registrar. Non-SPS undergraduates can fill out the Add/Drop/PN form. Graduate students should email registration@northwestern.edu.
If you are trying to swap classes after the first week of the quarter, use the Add/Drop/PN Form.
Guidelines for Dropping/Withdrawing from a Class