Degree Progress Report
The degree progress report is an unofficial document available in CAESAR to undergraduate students*, Law students and their advisers.
It displays the requirements of the degree, major(s) or minor(s) students have declared, by applying the student's coursework to the degree requirements and evaluating the progress toward degree completion.
The "What-If" degree progress reports allow students to select other programs they are considering (such as a new major or minor, or interschool transfer for undergraduates) and view how their courses may fulfill those degree requirements before they formally pursue changing their declared program of study. It is a useful planning and advising tool. Formal declaration of new programs is not handled via this tool.
*McCormick students' requirements are evaluated and maintained in the McCormick Advising System (MAS).
Important notes about the degree progress report:
This tool should be used throughout a student's career to assist with course planning and registration, and particularly as graduation approaches. Degree auditors in the Office of the Registrar use and maintain this tool to evaluate undergraduate students' progress toward completion. It is the official record of degree progress at Northwestern and is not supplanted by worksheets/planning tools used by schools or departments.
It is not a transcript. It is an internal University document and not intended for distribution outside of the University.
Its list of graduation requirements should match the official degree requirements published in the Undergraduate Catalog, but if there is a discrepancy the Catalog's version is the authoritative source.
Specializations or concentrations required in a major or minor must be officially declared in order to obtain a complete evaluation.
Substitutions or waivers approved by advisers must be reported to the Registrar's Office in order to be officially noted on the student's academic record and reflected on the CAESAR degree progress report.
It is not meant to replace advising. It is a tool meant to assist students and advisers.
CAESAR navigation for a degree progress report:
Once logged in to CAESAR, select the Degree Progress tile. The degree progress report will be the first page to populate.
The report will appear on the page, by default. Academic requirements will appear collapsed when they are satisfied. When a requirement is collapsed, you can expand it by clicking the arrow to the left to see what courses were used to satisfy the requirement or if course substitutions or waivers were applied. Click "expand all" at the top of the report to expand all of the collapsed requirements.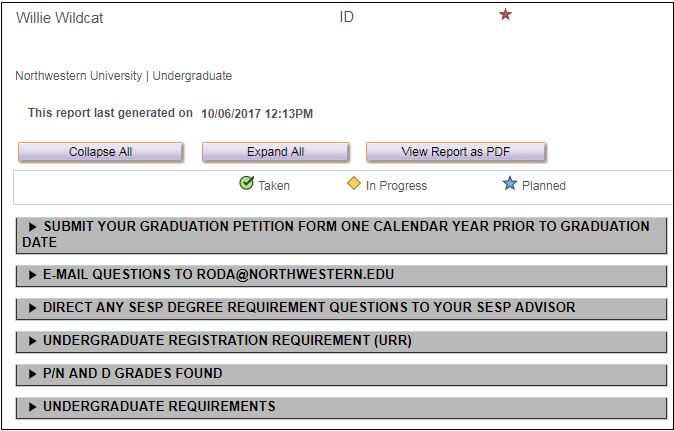 To view the report in PDF format, click the "View Report as PDF" button.

The report will open in a new window.  You may need to permit pop-ups in your browser for this to work:
CAESAR navigation for a what-if report: